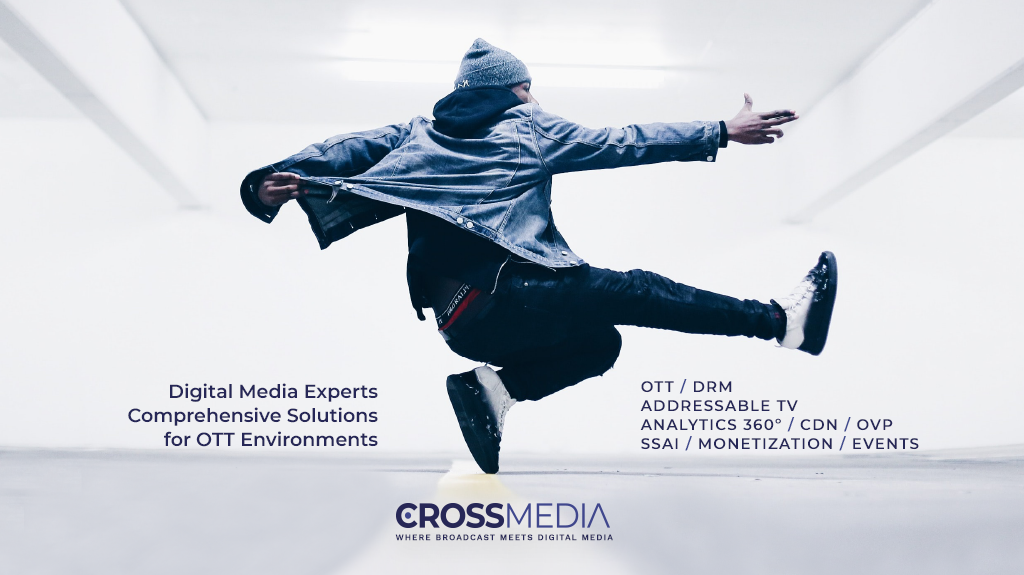 Crossmedia, the reference partner for OTT in Spain
Crossmedia, the Crosspoint brand specially developed for digital media business, becomes the reference partner for a good number of broadcasters and content producers in Spain.
To the well-known successes achieved at the CCMA (TV3) with the HTTP and HTTPS web traffic acceleration and distribution service, through leading CDN solution Fastly or OVP platform Brightcove for My Opera Player in Teatro Real, recently Crossmedia has added awards of great relevance in the digital field.
Proof of the above is the trust placed by CVMC (À Punt) in Crossmedia when it comes to renewing its VOD service and live streaming with Brightcove Video Cloud and its OTT encoding and streaming cluster with MediaExcel. Also at the end of last year, the award by EiTB of CDN services for web acceleration and delivery of live content to Crossmedia with the solutions provided by Fastly was made official.
RTVE currently has the Fastly service provided by Crossmedia for its main CDN VOD requirements for delivering RTVE content on demand, Clan, Smart TV's etc., Media Shield and secondary web CDN. Recently it was able to test and contrast the reliability of Fastly's solution in highly relevant events for RTVE, such as the last Christmas Lottery draw.
To the previous list of references must be added the award of RTVG for the service of capture, analysis and distribution of Big Data of the corporation. The result will be the construction of a specific Data Lake for the media of the RTVG corporation prepared for the collection of data applied to the optimization of the processes and decision-making in certain productive flows of the RTVG (programmatic, commercial, strategic, etc.). This service will be offered by Crossmedia thanks to another solution from its portfolio, Konodrac, which also has among its solutions powerful metrics and user management tools, in addition to Addressable TV, its new solution specially designed for advertising and interactivity in HbbTV environments.
Since its launch, Crossmedia has opted for top-level solutions for each of the areas required in the OTT digital ecosystem (OVP, CDN, streaming, encoding, analytics…). To this group of leading brands such as Fastly or Brightcove has also been added Conviva, which is a leader in intelligence for streaming video and TV services, powered by its real-time data platform. They have a unique modular 360º solution to meet the demand for analytics in advertising, user experience, content and social networks.
Crossmedia's activity is not only focused on the distribution of the brands it represents but also on the deployment of customized solutions thanks to its own development team. Proof of this has been the development of a management panel for eventual streaming channels for À Punt, where it has integrated all broadcast flows (master control room router of Grass Valley) and streaming (Brightcove and MediaExcel) of Valencian television into a single interface.
As the aforementioned references demonstrate, Crossmedia has become a reference partner in Spain for a good number of broadcasters and content producers and acts as a link between broadcast and OTT platforms, establishing itself as a point of confluence between television, IP networks and digital media. Its mission is to guarantee solvency and reliability by providing state-of-the-art technological solutions for new digital operators, whether they are broadcasters, production companies, cultural venues, the media or sports clubs.